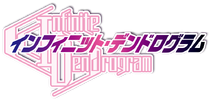 Infinite Dendrogram (インフィニット・デンドログラム, Infinitto Dendoroguramu) is a light novel series written by Sakon Kaidou (海道左近) and illustrated by Taiki (タイキ). It originally started as a web novel hosted on Shōsetsuka ni Narō from October 9, 2015 to present. The series was acquired by Hobby Japan, who published the first light novel volume on October 29, 2016 with illustrations by Taiki. The series also has a manga adaptation with art done by Imai Kami (今井 神), and an anime adaptation has been announced.[1] A spin-off manga, Crow Record: Infinite Dendrogram Another began serialization in Kadokawa's Comic Alive on May 27, 2019, written by the author, with illustrations by La-na.[2]
Summary
In the year 2043, Infinite Dendrogram, the world's first successful full-dive VRMMO was released. In addition to its ability to perfectly simulate the five senses, along with its many other amazing features, the game promised to offer players a world full of infinite possibilities. Nearly two years later, soon-to-be college freshman, Reiji Mukudori, is finally able to buy a copy of the game and start playing. With some help from his experienced older brother, Shu, and his partner Embryo, Reiji embarks on an adventure into the world of Infinite Dendrogram. Just what will he discover and encounter in this game world known for its incredible realism and infinite possibilities?
Media
Light Novel
Manga
Crow Record
Anime
Main article: Anime
An anime television series adaptation was announced on January 24, 2019.
External Links
References